Thanks to our experience in the market for many years, we are able to sells different grain sizes of products from ELT tyres recycling. Bur our offer is not limited to this. As a matter of fact, Rubber powder 0-0.8 EPDM is just an example. This product is obtained from the grinding of waste electric cables. Watch the video of the material.
The rubber powder 0-0.8 EPDM is the thinnest size produced, mainly used in the compound of new tyres just as in the creation of the rubber modified asphalt.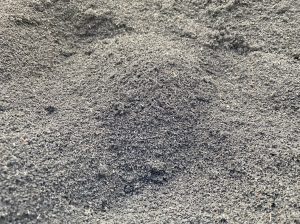 EPDM rubber is mainly composed of synthetic material and thanks to its electric insulation properties and its resistance to heat and atmospheric agents, the rubber material is used – in its first working life – as a coating for electric cables.
Before being processed into powder, the virgin EPDM rubber has various purposes. We find this material primarly in gaskets and insulation, automotive sectors, domestic appliances and gardening equipment.
Thanks to the recycling process, the EPDM rubber turns into powder and granulates to have a second working life. The grain sizes are mixed together with polyurethanic resins in order to create compact and not slippery surfaces right for swimming pool or for children playgrounds to soften any falls.
If you need more information, please fill in the contact form below and you will receive an answer asap.