Our aim is to preserve the environment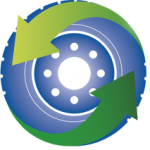 E-COVA: an innovative factory. In our plant we are collecting and processing solid tyres and press-on bands to obtain raw material that can be reused.
This is the only legal way to get through the wasted tyres that otherwise would pollute our environment. The final result of the working process is a marketable buffing, This is what we deal with: to give a new value to the material that has finished its working life.
Nowadays more and more companies are operating in the public and private construction field. Those industries need an increasing quantity of buffing to make insulating boards, safety floor tiles and synthetic mulch. Also, under the railway tracks, buffing is used for anti-vibrations boards.
We strongly feel the need to engage ourselves and contribute to save the landscapes from tyres pollution in total respect of the E.U. laws.