Waste solid tyres collection and disposal service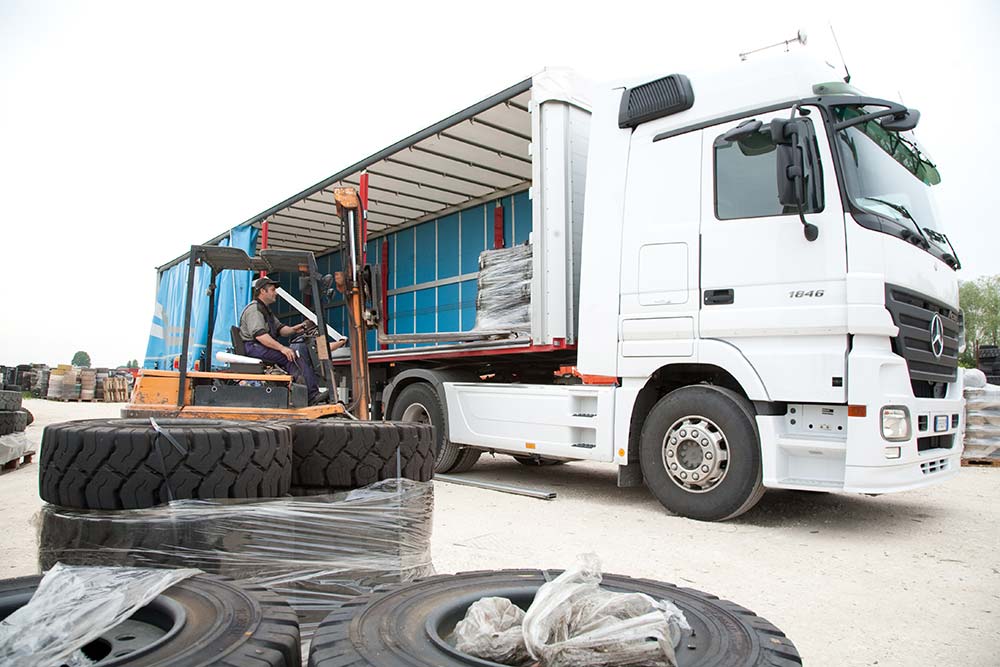 How does the waste solid tyre collection and disposal service work?
Our company is specialized in forklifts' waste solid tyres collection and disposal service. Thanks to the patented machineries we produce, we transform waste solid tyres and press-on bands into powder and buffing. In this way, we give value to a product that already made a first working life and possibly a second one in form of various artifacts.
What sort of tyres do you collect?
We collect and process waste solid tyres and press-on bands from forklift trucks. Those tyres must be in their entire shape and not cut in two or more halves. We are able to collect any size of tyres: from 8 inches of wheel diameter until 25 inches. We are not collecting car passenger truck tyres (no pneumatic tyres in general) since they are not workable with our system.
Do you accept rubber tracks and polyurethane wheels as well?
Our machines are not able to work rubber tracks, but we collaborate with companies in the sector that accept this type of waste. Therefore, if you need to dispose rubber tracks, do not hesitate to send your request. On the other hand, we do not collect polyurethane or vulkollan wheels as they are not treatable with our system.
Are you ok to collect tyres still mounted on the wheels?
Yes, we can pick up the waste solid tyres still mounted on the wheels. Once the rim is removed from the tyre, we dispose of them in the waste steel box.
Is there a minimum amount you collect?
No, there is no minimum quantity for collection. To optimize transport costs, we recommend providing full load trucks.
How should I pack the tyres?
Waste solid tyres can be placed on pallets covered with stretch film, or they can be stored in a detachable box. Then, the driver will collect them with the truck equipped with a crane.
Are waste solid tyres considered a waste?
Yes, waste solid tyres and press-on bands from forklits are considered non-hazardous waste and belong to the EWC code 16.01.03.
What kind of transport is used?
If your tyres are placed on pallets, then a curtainside truck or a walking floor are good. If the tyres are loose on the ground or in a removable box, we will use a vehicle that has a crane and dump boxes at the back.
Does the carrier need to be authorised?
Yes, the carrier needs the authorization for the transport of waste (in this case end-of-life tires = ELT) with reference to the EWC code 16.01.03.
What are the necessary documents for the shipment?
The documents necessary to deliver us the worn tires are: form with indication of the CER code 16.01.03 and destination of the waste Recovery R3 R13. It is also necessary to indicate our waste treatment authorisation no. 209 of 15/03/2017. 
Before proceeding with the loading, is it necessary to verify the material?
Yes, we ask the Customer to check the material before loading, in order to avoid the presence of non-compliant material. At the destination, that is to say at our plant, the material is still visually checked before unloading and, later, weighed.
Who should I ask for the disposal of worn solid tyres?
All you have to do is simply send an email to our address . We will then proceed with the offer or contact you if we need more information.