Rubber shreds with textile fibers
Nowadays in the market of forklifts' solid tyres, many tyres brands have a high number of textile fibers in their compound. This is a low quality blend inside the tyre and the working performance is reduced as well as a limited load capacity. Thanks to the machineries designed and patented by us, we are able to recycle these solid tyres, which already had their first working life, to obtain a new material: rubber shreds with textile fibers. Once processed, rubber mixed with textiles will have a second working life.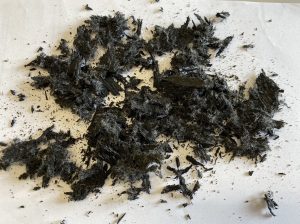 Rubber shreds with textile fibers: applications
This product is recommended in the stabe surfaces and in equine field, especially in the horses training track. The equine flooring has a soft surface because it facilitates the movements of horse without hitting its joints. Some people mix rubber shreds with textile and sand. The sand could be substituted by the finest rubber powder that we have available in two colours. Please look at the glass test and then tell us if our powder could correctly replace the sand.
Rubber shreds properties
The rubber mixed with textile fibers has a lot of elastic properties because it comes from forklift solid tyres recycling. Solid tyres are mainly composed of natural rubber that, once vulcanized, gives elasticity to the blend and supports the impacts just as not to deform when stressed by high loads. In our company there is an iron separation plant thanks to which the material produced is free from any metallic impurities.
The rubber mixed with textile fibers is packed in big bags or in dump truck, depending on customers' requests. Before confirming a load, we are pleasure to send a sample of the material in order to test it.
If you need more information, please fill in the contact form below and you will receive an answer asap