Solid tires shredding box
SOLID TIRES SHREDDING BOX
Turnkey, easy, reliable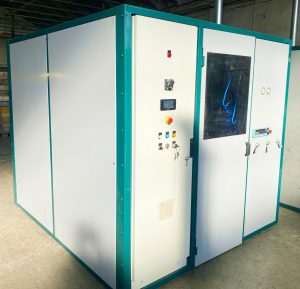 Waste solid tires disposal problem? Forget about that! Solid tires shredding box is the easiest solution to your problems.
Heavy tire? Light solution!
As it is well known, solid tires and press-on bands are particularly difficult to dispose because of their solid shape. Fray machine we produce and sell lightens your work! It is very easy to use, one single operator can easily manage two of them at the same time. This is because it's almost completely automatic!
Plug-in fray machine!
. Shredding box is delivered ready to use and ensures a stable output of material. Also, it is completely customizable according to the kind of material customers want to obtain. Output material is rubber powder, buffing and mulch in different sizes, completely clean from impurities, from steel nails in particular.
Shredding box: completely reliable and versatile
As you can see from the pic, this is very compact and soundproof. This is the best for operators' safety and containment of the material It covers a surface of only 4 square meter and it's 2 meter high. You don't need to have huge room to install the shredding box. The shredding box processes from 8 inches size up to 20 inches tires. It also works with press-on bands!
Full after sales service
We'll teach you and your staff how to use the solid tires shredding box. We will provide you complete support to run the fray machine at the best of its possibilities. Discover more now!