Ecomondo 2022, Green Economy's most important event.
As every year, during the autumn period, the well-known Exhibition Ecomondo will take place in Rimini Fiera from 8th to 11th November 2022. Ecomondo is an important event for the specialized companies working in waste and recylcing area.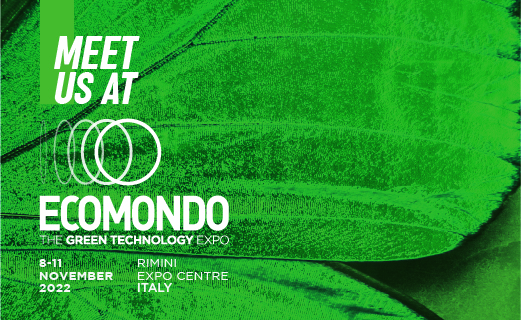 Ecomondo 2022: the reference event for Europe and the Mediterranean area
Ecomondo is the reference event for the European and Mediterranean area. We are facing a period in which the weather situation and waste handling are more and more important topics. Therefore, Ecomondo 2022 will focus on new technologies as well as innovative solutions and good behaviours that allow people to reduce waste and manage resources in a better way. When you visit Ecomondo, you will find many solutions for enviromental recovery and reconstruction, areas dedicated to the sustainability of textile fibres and the reduction of food waste. These innovations are shown by Start-ups and qualified companies experts in sustainable and eco-friendly technologies. At Ecomondo you can also take part in many events. You can check the program by clicking on this page.
E-Cova at Ecomondo 2022
Our company is specialised in the collection and process of waste solid tyres of forklift. Ecomondo represents an important event to meet professionals interested in a legal and environmental friendly way to recycle waste solid tyres. For this reason, we usually have a booth at the show. Further, thanks to our machineries, designed and patented by us, we are able to process waste solid tyres of forklifts. The outcome material is a secondary raw material reused in children's playgrounds as anti shock floor tiles, in thermal and acoustic insulation panels as well as in railway and construction area. Please click here to look at our products.
Finally, we look forward to meeting you at Ecomondo 2022 from 8th to 11th November at Rimini Fiere. We are in pavillon B3, booth 151.